The European Conference on Information Literacy (ECIL) took place at Prague, Czech Republic at 10.-13.10.2016. Straight after ECIL the Annual Meeting of the Association for Information Science and Technology (ASIST) gathered researchers all around the world to Copenhagen, Denmark. Timing of the conferences provided me a great opportunity to join both of the conferences.
ECIL is initiated and organized by the Department of Information Management of Hacettepe University and Department of Information and Communication Sciences of Zagreb University. The main theme this year was Information Literacy in the Inclusive Society.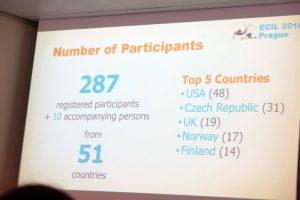 The keynote speeches were given by Tara Brabazon and Jan Van Dijk, and futhermore, invited speakers were Ole Pilerot, Vít Šisler and Annemaree Lloyd. Especially the keynote speeches raised discussion as Tara was intentionally very provocative in her speech and Jan´s perspective was from outside of the information and library science field.
As a member of the HIBA project I presented some of our results relating to older adults health information literacy skills. The study presented was part of the GASEL study.
ECIL focused strongly on libraries and information literacy teaching, but there was always also a more theoretical and/or general paper or panel sessions to attend for.
The abstract book of ECIL can be found here: http://ecil2016.ilconf.org/wp-content/uploads/2016/10/ECIL2016_BoA.pdf and selected full text papers will be later published in a ECIL's Proceedings Books are  published by Springer (agreement with the publisher is on yearly basis) under Communications in Computer and Information Science series (CCIS).
ASIST´s theme was Creating Knowledge, Enhancing Lives through Information & Technology. Plenary speeches were given by Greg Welch from University of Central Florida and by Markus Bundschus from Roche Diagnostics.
The topics of ASIST presentations and panels covered all from health information behaviour to digital data curation and the science of games. In addition to sessions relating to information behaviour I found myself listening sessions about e.g., multiculturalism of LIS education, digital sociology and information science research, open peer review and lifelogging. Examples of the panels in ASIST: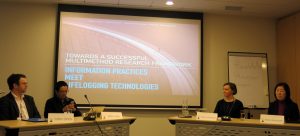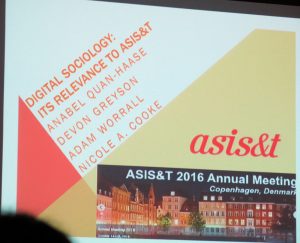 ASIST included not only paper presentations and panels but also several poster presentations. Again I was there presenting the results relating HIBA and GASEL projects. This time the topic was "opinions and use of mobile information technology around older people".
The ASIST proceedings and information of the previous conferences can be found here (free view for ASIST members): https://www.asist.org/publications/annual-meeting-proceedings/
Older people were present also in the street view of Copenhagen with a campaign "Do we ever stop dreaming?"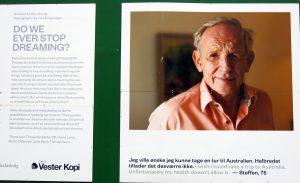 Next ECIL will be organized in St-Malo, France and next ASIST at Washington DC. Shall we meet there?
(Post blog written by Heidi Enwald)