SHUREA guest researchers 2019-2020
Dawit Berihun Assfaw, Addis Ababa University
---
Dawit specializes in Public International Law and particularly Human Rights Law. He completed his LLB degree in Law and my LLM degree in Public International law. Currently, he is pursuing his PHD studies in Law. He teaches different courses in the areas of Human Rights Law and Public International Law. Some of the include: Human Rights Law, Refugee Law, Child Rights Law, International Environmental Law, African Union and African Human Rights Laws.
Dawit is also the coordinator for Clinical legal education programs and the Child rights clinics, women rights Clinics and Prisoners rights Clinics. In relation with this in September 2010 he was the leader of the International Visitors Leadership Program from Ethiopia that visited the different U.S Public Prosecutors office, courts and the prison administration systems including the different Legal Aid and Legal Clinics programs and Law Schools in New York, Seattle Washington , North and south Carolina.
Dawit is a 2008 Philip .C.Jessup International Law Moot Court Competition Participant and the 2015 &2016 International Rounds Coach for the same moot court competition at Washington D.C.
Currently, he is writing his PhD research on the areas of improving the United Nations Security Council system for international peace and security and Human rights protections .
I grew interested in participating with the SHUREA programs in order to advance my research work and get a an advanced and clear exposure to the Human rights issues I am dealing with my research. My research stay in Pretoria Human rights center has been very interesting and important for me. I had a very brief but good research stay that helped me to discuss the human rights and international law issues involved in my research with the distinguished professors and students in the center. I had access to the library, reading room and a decent residence that fulfilled the necessary facilities for research. These are important inputs for me that I will continue to use in my further research. I am very interested to get the chance for more similar research visit programs that are available so as to give me similar and better experience for my research.
Dianah Ateenyi Ahumuza, Makerere University
---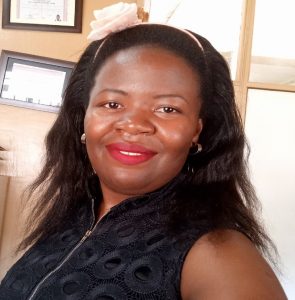 Dianah Ateenyi Ahumuza is an Advocate, an Assistant Lecturer of Law, Clinical Instructor at the Public Interest Law Clinic (PILAC) at the Makerere University School of Law in Kampala, a Focal point person for the Land and Natural Resources of the Network of Public Interest Lawyers (NETPIL) and member of the Steering Committee of the Uganda Consortium on Corporate Accountability (UCCA). She lectures Administrative Law, Human rights, Banking, and Negotiable Instruments and Clinical Legal Education at the School of Law. She has written about the realization of sexual and reproductive health rights of adolescents in addressing their vulnerability to HIV, disability policies at the workplace and how they affect the rights of Persons with Disabilities, access to justice for forced migrants in Uganda, among others. Ms. Ahumuza has experience in legal education, research, career guidance, mentorship, mediation, and human resource management. Ms Ahumuza holds an LLB from Makerere University, a Postgraduate Diploma in Legal Practice from Law Development Centre in Uganda and an LLM in International Human Rights and HIV in Africa from the University of Pretoria, South Africa. Ms. Ahumuza an LLD candidate at the University of Pretoria researching on the impact of tax incentives on Uganda's obligation to realise economic, social and cultural rights with a case study of tax holidays and the right to basic education.
I got motivated to apply for the SHUREA mobility scholarship after the August 2018 Nairobi AfriDoors conference which enabled me kick start my LLD journey. Being a part-time, privately sponsored student, being away from my workplace and my country has enabled me have real concentration on my proposal which is now ready for defense.

The experience has been great so far. My supervisors have been helpful and responsive. I am able to attend some of the classes, organised seminars, trainings relevant for my areas of interest. The resources at my disposal are emmerse and the general living conditions are good.
Naserian Sitelu, University of Nairobi
---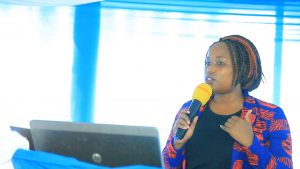 Naserian Sitelu is currently a lecturer at the University of Nairobi, School of Law. Her research interests are in International Trade Law, International Investment Law and Human Rights. Currently she is pursuing a PhD on the issue of special and differential treatment (S&DT)of developing countries under the world trade organization with a view to seeking coherence of the S&DT concept with the right to development.
Additionally, she is an advocate of the high court of Kenya, a holder of a master of laws degree in International Trade from the University of Leeds and a bachelor degree in law from the Catholic University of Eastern Africa.
The main motivation to be part of the SHUREA programme is the possibility to interact with other academics in the area of Human Rights. Particularly, she was drawn to the Center for Human rights at the University of Pretoria for its recognition as a Centre of excellence in Africa.
She has gained invaluable insights into her research through the research meetings organized by the Centre. Her most important take away so far, are the useful collaborations she has built that will outlast my stay.
Shewit Kahsey Gebreselassie, Addis Ababa University
---

Shewit is currently a PhD student at Adddis Abeba University School of Law. His academic interest is mainly on human rights and Criminal Justice. Specifically, he is interested in the criminal sentencing and right of prisoners. His research proposal is on alternative to imprisonment. The researcher has about four publications related to human rights and criminal justice. Moreover, he has presented different papers in research conferences.
He believes that SHUREA Academic Mobility Program is platform for researchers. As a PhD Student at Addis Abeba University; he got this opportunity, because his research interest is related to human rights.
He believes that he really benefited from his stay so far and has a lot of experience to take to his home university. Among others, the periodical research meeting is really very important. He believes that constructive criticisms, question and answer dialogues are essential for experience sharing and to develop research skills. The other very important thing the researcher benefited from is the library resource materials. The library is well organized and convenient for reading.
The researcher also would like to appreciate the unreserved help and effort of the project coordinator which has made his the research stay easy and joyful.
SHUREA guest researchers 2017-2018
Ms. Patricia Odong, Makerere University
---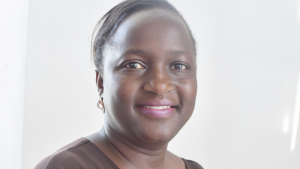 Ms Patricia Atim P'Odong is Ugandan and currently lecturing at the School of Law, Makerere University, Uganda. She is a PhD Candidate at University of Cape Town, South Africa and holds a Master's Degree in Human Rights and Democratisation from the Centre for Human Rights, University of Pretoria. Her academic interest is largely in human rights, family law, disability rights, administrative law and constitutionalism. The title of her doctoral study is 'A Critical Analysis of the Right to Deinstitutionalisation, Independent living and community Participation in Uganda':
Using a purely doctrinal legal analysis, this thesis proposes a framework for realising the right to independent living for persons with mental disabilities in Uganda. Drawing best practices from Kenya, South African and Ireland, the thesis seeks to address the challenge by making propositions for an independent living framework for persons with mental disabilities in Uganda. It is hoped that the recommendations if implemented will pave way for social transformation and justice for persons with mental disabilities.
Patricia's SHUREA research visit at the Centre for Human Rights, University of Pretoria was from August to November 2017.
My research visit was extremely fruitful. I undertook research and had my proposal successfully approved. I also participated in other relevant activities such as the African Forum for Doctoral Research in Human Rights (AfriDoors), research discussion seminars, short courses, a few meetings and I networked with other doctoral candidates. I am extremely grateful for the opportunity and for the support from the SHUREA project.
Mr. Ronald Rogo, University of Nairobi
---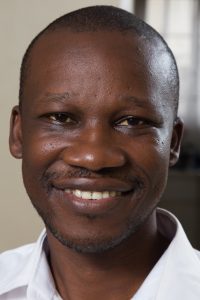 Ronald Rogo is a Kenyan and is currently lecturing at the School of Law, University of Nairobi in Kenya. He is also a PhD Candidate at the School of Law, University of Nairobi. He holds a Masters of Law (LL.M) from the University of Turin, Italy and a Bachelors of Law (LL.B) degree from the University of Nairobi, Kenya. Ronald also has a Masters of Arts degree from Eastern University, USA. Ronald's main areas of research are in human rights, disability rights, criminal law and international criminal law. He is currently researching for his doctoral degree on the access to justice within Kenyan courts by persons with psychosocial disabilities and who have been sexually abused.
I am investigating whether the specific needs of persons with psychosocial disabilities who have been sexually abused are adequately addressed by Kenyan courts during a criminal trial. If not, the research will also investigate the effect of this inadequacy on their right to access justice as required by the law. The research recognizes the reality that although courts seek to protect the rights of all persons, they however on occasion deviate from this goal and perpetuate more injustice. It is important to ask whether Kenyan courts, as they are currently constituted, promote the right to access to justice for vulnerable persons such as those with psychosocial disabilities who have been sexually abused. If not, substantive and procedural reforms should be put in place to correct this.
Ronald's research has been based at the Centre for Human Rights, University of Pretoria, South Africa from November 2017 to April 2018.
I appreciate the extended time I have had to think, read and reflect about my dissertation. I was able to meet and interact with various professors. We had monthly meetup sessions with professors and my peers where my proposal, among others, was discussed. These meetings were very useful in getting alternative views and helped me to distil my thought process. In addition, I had access to a very well stocked library, internet and other resources. I was also able to participate in a Disability rights Conference while based in Pretoria that was directly related to my research. Interacting with the professors and my peers has been an absolutely enriching experience.
Dr. Aberra Degefa Negewo, Addis Ababa University
---