"When I travel, I see the beautiful ice and the beautiful mountains, and I see nice people who greet me." These lyrics of an old Inuit song describe perfectly my adventure to colorful Nuuk, the capital of Greenland in October 2019. Taking an opportunity to apply and receive a travel grant from the Nordic Society of Circumpolar Health (NSCH) as well as receiving financial support from the Research Unit of Nursing Science and Management in the University of Oulu made it possible for me to participate a PhD course and the NunamedX Conference.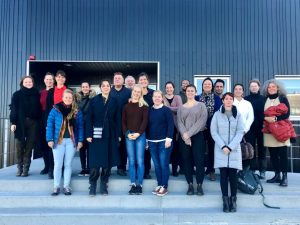 A group photo of the PhD course participants taken in front of the Greenland Centre of Health Research, University of Greenland.
My home university of Oulu has nurtured me with a slogan of "science with arctic attitude". A PhD course in Nuuk took it to the next cooler and harder lever, shaping it towards a metaphor of an iceberg. As well known, only a tip of an iceberg is visible and 90% of it is hidden underwater and takes effort to explore. The tip might be beautiful, just the shape of an answer I have been looking for my research questions, but there might be something else much more meaningful and relevant underneath the surface.
As we went around the icebergs on our boat trip excursion, I as a health researcher have to go around and around my data but also have to dip in the icy water and dive a little deeper to see the whole shape of the iceberg. The idea of an iceberg fits well also the state of research done on visual impairment in Finland. The tip of the iceberg consist of beautiful and unique data gathered on the Finnish Register of Visual impairment, but the majority of issues relating to the lives of visually impaired people remain unexplored. For example, well-being, functional capacity and individual experiences related to disability in later life are things that need consideration.
My research involves health-related quality of life among elderly people with visual impairments. It can take many colours, like ice that has formed over decades. The more turquoise the ice of an iceberg is, the older it is. In my research, I want to bring out the voice of elderly people with visual impairment and expand the stereotypic picture of visual impairment in Western societies.
The focus of the PhD course, community based health research, got me thinking about the term indigenous in relation to community of visually impaired people. Elderly visually impaired people represent a majority in number, but a minority in cultures of visually impaired people. Elderly VI people may not be recognized and strongly included into VI communities for various reasons. Visual impairment in later life may not lead to a feeling of impairment to the same extent than for a younger person and therefore, elderly people might themselves stand outside the visual impairment communities. Therefore, elderly people might have something to add to the existing VI communities and the general perception of visual impairment in society. The sound of a slowly melting old ice is worth listening, it has a story to tell that has an enormous value today.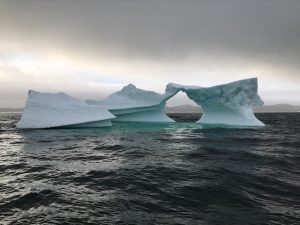 An iceberg floating in Nuuk Bay
NunamedX conference introduced multidisciplinary aspects to health research in the arctic. Aspects of rehabilitation in the arctic regions could be further reinforced with a nursing science perspective and it´s paradigm. Human, environment, health and care are core elements in nursing science research, but also holistic rehabilitation. Rehabilitation is about maintaining and recovery but also discovery in terms of empowerment. As we have to protect the arctic climate, way of life and the vulnerable nature from climate change, we have to find ways to empower the elderly population with disabilities in modern society with it´s rapid and ongoing change with digitalization.
                                                                                                                  
Heidi Siira 
yliopisto-opettaja, TtT-opiskelija 
Hoitotieteen ja terveyshallintotieteen tutkimusyksikkö, 
Oulun yliopisto

heidi.siira@oulu.fi